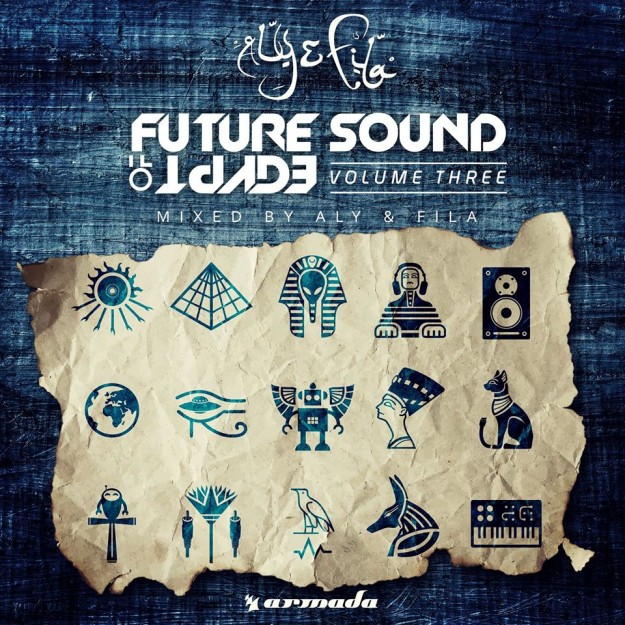 What a ride it's been for the Egyptian masterminds by the name of Aly & Fila. Ever since their first international signing back in 2002, the multi-talented duo continue to surprise fans and foes alike with their seemingly limitless amount of talent and ability to produce world class tunes.
Now, years later, we can agree that Aly & Fila are one of the most respected and appreciated trance acts in the world, even though their music doesn't limit itself to just one genre. Following their recent Chill Out album which saw themselves reworking their own classics into a more chilled, downtempo style, the Cairo based combo are back doing what they do best, impressing trance fans around the world with their brand of uplifting music.
Now releasing the third instalment of their legendary 'Future Sound Of Egypt' series, Aly & Fila demonstrate to a global audience yet again that they are a force to be reckoned with. Featuring an array of exceptional tunes by artists including the likes of Paul van Dyk, Bobina, Giuseppe Ottaviani, John O'Callaghan, Standerwick, Photographer and many more as well as Aly & Fila themselves, 'Future Sound of Egypt Vol. 3' is a delight for all that love the powerful, energetic and melodic trance that FSOE represents, and simply put, with the masters themselves handpicking all the tunes, you just can't go wrong!
Release date: May 1st, 2015
Pre-order on iTunes.
Tracks:
Disc 1:
Hazem Beltagui – Light Painting (Intro Radio Edit) (03:12)
Hazem Beltagui – Unbroken (Radio Edit) (03:38)
Tomac – Gabrielle (Radio Edit) (03:54)
Venom One feat. Sarah Howells – Rush (Radio Edit) (03:31)
Andy Elliass & ARCZI – Subcarpathia (Radio Edit) (03:40)
Bryan Kearney & Will Rees – Prime Example (Radio Edit) (03:13)
Photographer & Susana – Find A Way (Radio Edit) (03:04)
Bobina – Invisible Touch (Aly & Fila Radio Edit) (04:11)
Manuel Rocca – No Turning Back (Radio Edit) (03:58)
Matt Darey feat. Kate Louise Smith – See The Sun (Dan Stone Radio Edit) (04:20)
Will Rees – Persistence (Radio Edit) (03:26)
A & Z vs Flynn & Denton – Scota (Radio Edit) (03:24)
James Dymond – Renegade (Radio Edit) (03:34)
Allen & Envy – Elixir (Radio Edit) (03:26)
Sied van Riel – The Dark Matters (Radio Edit) (04:08)
Standerwick & Jennifer Rene – All Of Us (Radio Edit) (04:18)
Johan Ekman – Another Way (Radio Edit) (03:47)
Aly & Fila feat. Roxanne Emery – Shine (Club Radio Edit) (03:25)
Will Atkinson – Through Spirit (Radio Edit) (04:37)
Aly & Fila – Future Sound Of Egypt, Vol. 3 (Full Continuous Mix, Pt. 1) (77:59)
Disc 2:
Costa – Lost In The Wind (Radio Edit) (03:28)
Eloquentia – Nowhere To Return (Radio Edit) (03:15)
Mike Sanders – Route 66 (Radio Edit) (03:55)
Simon Bostock feat. Becca White – When We Collide (Radio Edit) (04:28)
Amine Maxwell & Mhammed El Alami – If I Stay (Radio Edit) (02:40)
Bjorn Akesson – Shadows (Radio Edit) (04:10)
Omar Sherif & Adam Deane – Stay In Wonderland (Radio Edit) (03:06)
James Dymond – Echoes (Radio Edit) (03:54)
Giuseppe Ottaviani – No One Like You (OnAir Mix Edit) (03:41)
Kayosa & Tolland – Volkach (Radio Edit) (03:11)
Aly & Fila with Aruna – The Other Shore (Fady & Mina Radio Edit) (03:47)
Paul van Dyk and Mark Eteson feat. Tricia McTeague – Heart Like An Ocean (Aly & Fila Radio Edit) (03:37)
Alan Morris – Cairo (Radio Edit) (03:47)
Aly & Fila feat. Karim Youssef & May Hassan – In My Mind (UCast Radio Edit) (03:45)
Aly & Fila vs The Thrillseekers – Es Vedra (Radio Edit) (03:49)
John O'Callaghan & Deirdre McLaughlin – Stay With Me (Radio Edit) (04:07)
Liam Wilson – Summer Sun (Radio Edit) (03:38)
Simon Bostock – Reflect (Radio Edit) (04:24)
Arctic Moon – Astoria (Radio Edit) (03:29)
Aly & Fila – Future Sound Of Egypt, Vol. 3 (Full Continuous Mix, Pt. 2) (77:27)